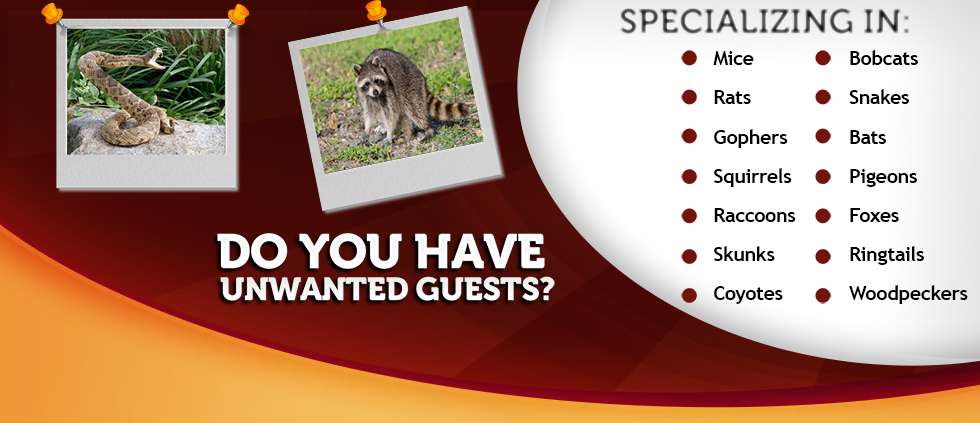 Sorry, we do not handle dogs.  The professionals at Arizona Wildlife Control are your Phoenix area and Arizona animal removal experts. With over 20 years experience in animal trapping, we use humane capture methods to safely remove unwanted animals, such as raccoons, snakes, pigeons, rats, bats, skunks and others listed above.
Capture is the first step, we then release the animals that can be released back into the wild. But, we don't stop there, we then work to prevent future visit by these "unwanted guests", by sealing all entry points for the species.
So, if you have an unwanted birds or animals in your home, business or on your property, we can help. Call and we will come to your location and do a thorough inspection to determine the best course of action.
Give us a call:  602-618-0284
For a FREE Over the Phone
or On-site Estimate
Over 20 YEARS OF EXPERIENCE
We understand that wild critters may be cute, but sometimes they are unwanted guests… Arizona Wildlife Control specializes in removing critters and other unwanted wildlife guests.
FOR ARIZONA WILDLIFE CONTROL:
-> No project is too big or too small
-> We are available 24 hours a day, everyday
-> Family-owned and operated business
-> With modern and humane techniques that remove your "unwanted guests"!
-> Sorry, we do not handle dogs.
Humane Wildlife Control & Removal in Phoenix,
Glendale, Buckeye, Scottsdale, Estrella Village, El Mirage, Litchfield Park, Goodyear, Liberty, Tolleson, Apache Junction, Guadalupe, Sun City, Paradise Valley, Fountain Hills, Chandler, Queen Creek, Gilbert, Peoria, Tempe, Anthem, Avondale, Surprise, New River,  Cave Creek, Carefree, Ahwatukee, Sun Lakes, and Mesa Arizona.