Avondale Rodent Control for
Mice/Mouse in Attic or Walls.
Rodent Removal and Mouse Control in Avondale, Cave Creek, Phoenix, Scottsdale, Peoria, Tempe, and Mesa Arizona, AZ.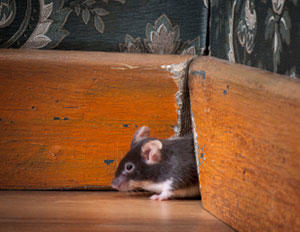 Avondale mice removal is a common service provided by wildlife control operators. Mice Control is  a common occurrence throughout the cities of Avondale, Cave Creek, Mesa, Tempe, Scottsdale, Peoria, and Phoenix, Arizona.
Two mice can quickly multiply into hundreds upon hundreds within a year if the problem is left untreated. These creatures have the ability to contaminate and destroy all the food that you have stored in a given area in a matter of just weeks.  Because of their tiny size, they can maneuver through a small opening the size of a nickel.  This includes the attic, walls, underneath foundations, and even within furniture.
A Mouse spends most of their life living almost entirely on your food and water where they live.  The first important step in controlling a rodent outbreak is by limiting and removing their primary food source. However, there is such a wide variety of things they can eat, so this may not be enough to remove the mice population.
COMMON PROBLEMS THAT ARE ASSOCIATED WITH HAVING MICE IN YOUR HOME:
Mice in attic
Mice droppings
Mice chewing holes in attic screens, tearing up insulation
Mice is sheds & Crawlspaces
Mice contaminating food stores
Mice in walls
SOME IMPORTANT FACTS TO CONSIDER:
Mice are tiny, weighing only about 1/4 of an ounce
Their Feces are blackish in color and have a strong, musty smelling odor.
These small rodents only need an opening about a ¼ of an inch in size to crawl through to gain access.
Mice have excellent senses of all kinds which include: vision, hearing, smell and touch.
They are rapid breeders. They can spawn about six to ten litters per year with five to ten babies in each litter.
WHERE YOU CAN FIND THEM WHEN THEY ARE HIDING:
In Insulation (Walls, Ceilings, Etc.).
In attics or crawl spaces
Under or behind furniture, cabinets, counters, showers, bathtubs and appliances.
Around furnaces, hot water heaters, and AC Units.
In stored boxes, paper or clothing
In and around trash/garbage cans.
Note: A Mouse may only travel up to a maximum of 30 feet from their nest to collect food, and prefer to travel much shorter distances if the option is available.  With this being the case, if you hear movement within the walls in different parts of the property, you probably have more than one.  Call Arizona Wildlife Control today at (602) 618-0284 before the mice multiply into a much larger and more expensive problem!