Fox Removal, Control, and Trapping in Peoria AZ
Fox Removal, Control, and Trapping in Peoria, Chandler,
Glendale, Scottsdale, Anthem, Peoria, Tempe, Gilbert, Phoenix and Mesa Arizona, AZ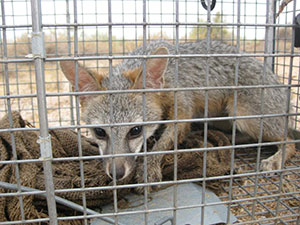 Most often confused for a small coyote, the grey fox is commonly found in the Peoria area. It is important to note that foxes are much smaller than coyotes, and their tail is quite bushy by comparison. We offer professional, live fox trapping and relocation services for Peoria, AZ.
It is inevitable that with human housing developments expanding continuously into these wildlife habitats, there will be problems arising with foxes in some yards or homes. We will come in and will carefully remove the fox from your location, preventing any unsafe conditions, re-introduction of the species, or the spread of diseases.
Fox problems can be quite serious if left unchecked. The damage caused by foxes may cause losses that are heavy in small fowl farm flocks of chickens, ducks and geese. Young pigs, lambs and small pets can also be killed by foxes. When fox damage occurs it is best to contact a professional like Arizona Wildlife Control to help get rid of your fox problem. We offer fox control prevention services to prevent any future issues.
COMMON PROBLEMS THAT ARE ASSOCIATED WITH FOXES AND THEIR HABITS:
Preying on small pets like cats
Fox frequently your suburban residence eating pet food, or scraps left for pets
Fear of fox becoming a threat
Preying on livestock
We use humane trapping and caging methods to remove the animals in the safest manner possible from your property in Peoria. We do not want to injure your pets, children, or have the animal spread disease within your family and loved ones.