Wild Animal Trapping, Critter Control, and Humane
Pest Removal. Serving the Phoenix, Arizona Metro area 24/7.
Humane Wild Animal Trapping, Control & Removal in Phoenix, Ahwatukee,
Glendale, Buckeye, Scottsdale, Rio Verde, Estrella Village, El Mirage, Litchfield Park, Goodyear, Liberty, Tolleson, Apache Junction, Guadalupe, Sun City, Paradise Valley, Fountain Hills, Chandler, Queen Creek, Gilbert, Peoria, Tempe, Anthem, Avondale, Surprise, New River,  Cave Creek, Carefree, Sun Lakes, and Mesa Arizona.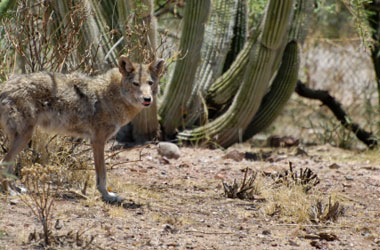 Arizona Wildlife Control is a full-service wild animal removal company located in Phoenix, within Maricopa County, Arizona. We perform humane animal trapping and animal removal services on animals such as Bobcats, Coyotes, Feral Cats, Skunks, Raccoons, Snakes, and Foxes. Some of the areas we service are Phoenix, Ahwatukee, Glendale, Scottsdale, Peoria, Tempe, and Mesa, Arizona.
Along with physical damage and disease, wild animals also bring along disturbance with their noise, commotion and smell. We have seen many more animal problems than these. However, this is a general idea of the kinds of problems that my our professional wildlife removal operators are prepared to solve. Not only does Arizona Wildlife Control trap and remove the problematic wild animals, but we also do a lot of other dirty work, too. We are a full service pest control company with a wide range of wild animal control solutions in Phoenix AZ.
For your safety, Do Not try to remove the wild pest by yourself!
Remember, Wild Animal Removal requires a qualified and knowledgeable expert. If you own a home or business and have animal removal and animal control problems, you can rely on our wildlife experts.  Do not try to remove the wild animal(s) yourself, as they can be very aggressive and could lead to physical harm.
We will humanely remove the following Wild Animals, Plus many others as well:
Feral cats from parks and neighborhoods
Raccoons from chimneys, sheds and attics
Snakes from chimneys, sheds, attics, and yards
Skunks that damage gardens and den in crawlspaces and under porches
Coyotes, Bobcats, and Foxes from properties
Plus many more animals & services!
Arizona Wildlife Control is a full-service animal wildlife trapping, removal and control company specializing in safest and most humane removal of critters. We are state licensed by the Arizona Game and Fish Department. We handle nearly all aspects of wildlife animal control, and resolve conflicts between people and wildlife in a humane and professional manner.
Scratching Noises in Your Attic, Walls, Or Crawlspace?
Unwanted Animal Wildlife In Your Home, Business or Property?
Problem Bird or Bat Infestation?
Digging In Your Lawn or Under Your House, Deck or Garage?
Animal Odor Problems?
Chewing Sounds In Your Attic or Crawl Space?
Animals Damaging Your Wiring, Insulation, Fascia, Soffits, and the Wood in Your Home?
Animal Feces Removal?
Attic Restorations And Clean-Up Needed?
We Can Solve It!
Many of Arizona's wild animals have learned to adapt and even thrive in our homes and businesses. Some wildlife species have found that attics make great places to live. Other animals find refuge under homes or porches. Invariably, these animals cause damage. Rodents, like squirrels and rats, love to chew on electrical wires once in an attic, and cause a serious fire hazard. Raccoons can cause serious contamination in an attic with their droppings and parasites.
Arizona Wildlife Control believes in providing the best solutions available by safely and humanely trapping, removing, and controlling nuisance animal wildlife pests. In addition to animal capture, animal control and animal removal, we provide animal exclusion, damage repairs, waste cleanup, and more. We specialize in humane trapping techniques and complete animal pest control solutions. If you have a problem caused by the wild animals in your area, Arizona Wildlife Control can solve it!
Note: We specialize in the removal and control of wild animals from your Phoenix home. Wild animal removal in Phoenix is closely regulated by the County of Maricopa and the state of Arizona to ensure humane treatment of the wild animals removed. Before you hire an animal removal professional in Phoenix, you should check to make sure they have the proper documentation from the Arizona Game and Fish Department. Also, ensure that they have the proper insurance and licenses to perform the wild animal removal service work to your home.
Sorry, we Do NOT handle Dogs!