Phoenix Gopher Removal & Control, Gopher in Yard
Gopher Removal, Control in Phoenix,
Glendale, Scottsdale, Rio Verde, Estrella Village, El Mirage, Litchfield Park, Goodyear, Liberty, Tolleson, Guadalupe, Sun City, Apache Junction, Paradise Valley, Chandler, Gilbert, Peoria, Queen Creek, Fountain Hills, Tempe, Anthem, New River, Avondale, Surprise, Buckeye, Cave Creek, Carefree, Ahwatukee, Sun Lakes, and Mesa, Arizona.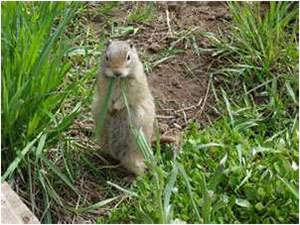 Phoenix gopher control and removal is a service provided by wildlife control operators and l is a common problem throughout the cities of Phoenix, Mesa, Tempe, Scottsdale, Peoria, and Glendale Arizona.
Gophers are well known for their astonishing ability to quickly turn a beautiful lawn into an ugly, torn up, and sometimes hazardous environment complete with piles of dirt and many, many holes. Trying to manage this problem yourself will cause lots of stress because gopher activity is intermittent at best – they may be gone now, but will be back soon.
Arizona Wildlife Control specializes in providing Phoenix AZ critter control services at a fair price. We use a variety of trapping methods to ensure your gophers get removed and your lawn gets returned to normal. There are three different species of gophers here in Arizona, but the most common is the pocket gopher. They live most their lives in underground runways that they have dug and love freshly rooted plants as well as other plants that can be found near a building or home.
In time, they may completely kill small trees and shrubs and can cause extensive damage to flower or vegetable gardens if they are not removed from the property. Their little teeth can cause damage to underground cables and irrigation systems. The secret to knowing if you have a gopher problem is by their unique fan-shaped earthen mounds with the burrow entrance plugged with soil.
COMMON PROBLEMS THAT ARE ASSOCIATED WITH GOPHERS:
Damages to Yards due to many holes (mounds)
Damages to gardens
Damages to plantlife like small trees & shrubs
Damages to underground cables & irrigation systems