Phoenix Squirrel Exterminator Alternative.
Humane Squirrel Trapping & Control in Phoenix,
Glendale, Scottsdale, Rio Verde, Estrella Village, El Mirage, Litchfield Park, Goodyear, Liberty, Tolleson, Guadalupe, Sun City, Apache Junction, Paradise Valley, Chandler, Gilbert, Peoria, Queen Creek, Fountain Hills, Tempe, Anthem, New River, Avondale, Surprise, Buckeye, Cave Creek, Carefree, Ahwatukee, Sun Lakes, and Mesa, Arizona.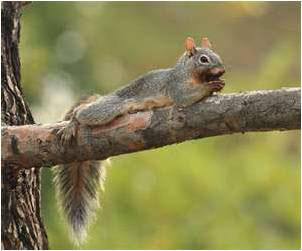 Are you looking for a humane alternative to hiring a squirrel exterminator?    Common problems associated with squirrels are their tendency to cause damage in attics, damage to landscaping, and forests and orchards. Tree squirrels do the most damage in attics, including destroying attic insulation, chewing through electrical wires and chewing holes on the exterior of the home in order to gain entry. Once in the attic, they will build nests for their litters. Several types of squirrels can damage landscaping when they burrow in yards and dig up their hidden food, like nuts and freshly planted seeds.
The most effective method of squirrel removal is to trap them. We will set traps to catch the squirrels around your Phoenix, AZ home or business. Any squirrels that are trapped are safely relocated to other, less populated areas.
If you hear noises in your attic and you are unsure as to the source of the sounds, it's relatively easy to determine if it's squirrels.  These animals are active mainly during the daytime. Thus, if you hear scampering and scurrying noises during the day, it's likely that you have a infestation.
Squirrel removal and control by a certified professional becomes necessary when they have established a nest in a home or business. In the wild, squirrels are primarily arboreal and usually make their nests in tree cavities or build a nest, which is called a drey, out of twigs and branches high off the ground. In suburban areas, they like to break into attic spaces in houses by finding a small access point which they will chew to make larger. The holes that squirrels use to gain access can become an entrance for other invaders, including raccoons, bats, insect pests and other rodents. Squirrels are also primary carriers of dangerous diseases such as rabies, powassan virus and tick fever.
We Can Help You With:
Squirrels in attic or crawlspaces
Squirrel dropping cleanup
Squirrels digging holes in the side of your house
squirrels tearing up attic insulation or electrical wiring
Call us at 602-618-0284 immediately to get rid of squirrels . We specialize in trapping and removing squirrels in attic, and other problems without the need for an exterminator.